Shree Aditya is a reputable manufacturer of Commercial RO Systems, catering to the diverse water purification needs of commercial establishments and businesses. Our expertise lies in designing and delivering high-quality and efficient Commercial Reverse Osmosis (RO) Systems that ensure the supply of safe and purified water for various applications.
As a leading Commercial RO Systems Manufacturer, we understand the importance of reliable and consistent water purification in commercial settings. Our Commercial RO Systems are built using state-of-the-art technology and premium-quality components to ensure optimal performance and long-lasting durability.
Commercial Reverse Osmosis system / Commercial RO Systems Manufacturers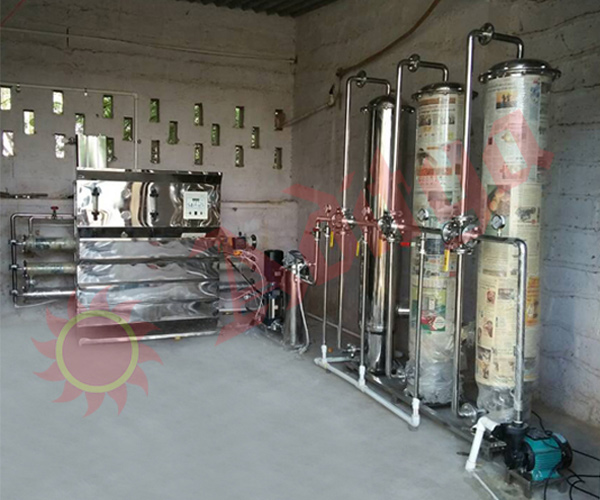 Our Commercial RO Systems are capable of removing impurities, contaminants, and dissolved solids from the water, making it suitable for drinking, cooking, and various other commercial purposes. Whether it's a small restaurant, a large office complex, or any other commercial establishment, our RO systems are designed to meet the specific water treatment needs of different businesses.
At Shree Aditya, we offer a wide range of Commercial RO Systems with varying capacities and configurations, allowing our customers to choose the one that best suits their water consumption and quality requirements. Each system is engineered to provide efficient water purification, reduce wastage, and optimize energy consumption.
As a customer-centric Commercial RO Systems Manufacturer, we prioritize delivering top-notch products and comprehensive support services. Our team of experts works closely with clients to understand their unique requirements and recommend the most suitable RO system for their commercial premises.
We also offer timely installation, maintenance, and technical support to ensure our customers experience seamless operation and peace of mind. With our Commercial RO Systems, businesses can rest assured that they are providing their employees and customers with safe and clean drinking water, promoting a healthier environment.
Commercial Reverse Osmosis Plant Manufacturers
Shree Aditya is a leading Commercial reverse osmosis plant Manufacturer and supplier for Industrial and Commercial uses with a capacity range of 1000 Lph. Our range of commercial reverse osmosis plants is best known for operational fluency, low maintenance, and ease of installation. It has its application in the drinking water system in restaurants, residential areas, hospitals, malls, etc. There are various attractive features of our commercial system that makes them famous among the clients throughout the nations. The systems we develop are made in sync with the global standards to make them perfectly suitable for industry. Our designed equipment is capable of eliminating bacteria, proteins, salts, and other dissolved impurities from the water. The commercial RO plant system consists of various elements that automatically clears the water and presents an economic plant that reduces operating cost.